Loki's third outfit is the result of 3 years of growth. I feel like I have come full circle around to making this. His Asgardian attire this time is modelled on the Dark World outfit, which is very similar to the more casual Avengers movie version, with some minor differences. However, the differences that I have made in the quality of the outfit really help show my growth as an artist. Instead of painting details on leather, all the pieces of 'armor' are hard, tooled leather, to really give him rich depth. His jacket is fully lined, and all the stitches on the trim were done by hand. I chose to use stitches instead of small applied brass bits so that the brass would not harm the leatherwork or snag the fabric. The fabric this time is not fake leather, but is a heavy, high quality upholstery fabric, turned to the reverse side. I modified an iplehouse wig to get the wavy, long-haired look of the newest movie, and made him a dagger out of sculpey.

Recently in September of 2018, I made his helmet and cape.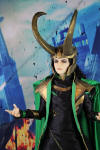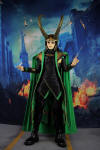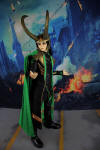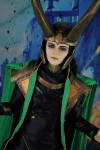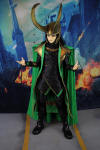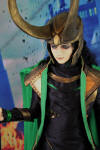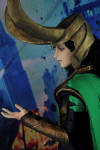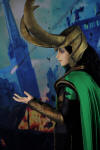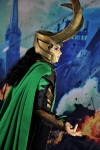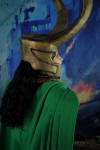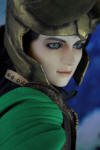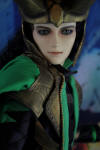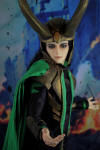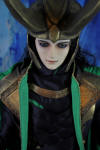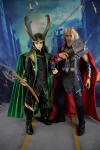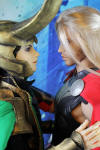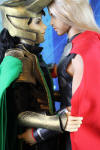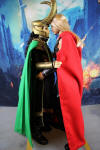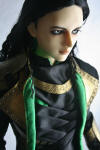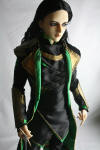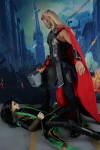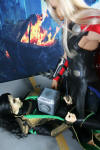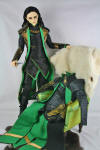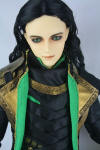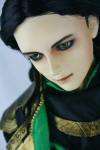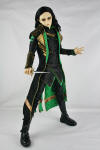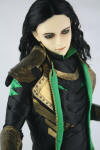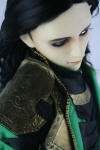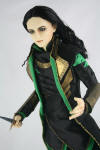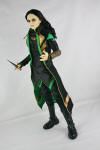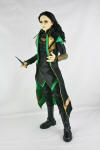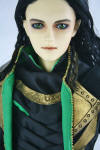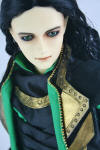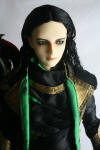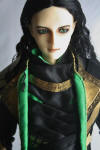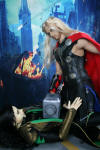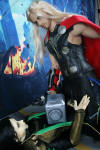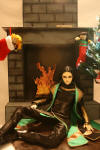 Due to Loki's Avengers outfit being worn out, I decided to make him his Stuttgart suit for a little change, while I figure out a durable fabric to make more Asgardian clothing out of. This took me a week or so to make, and I think it turned out well. I don't like making normal clothes. >< His coat is real wool, properly lined, and he has buttonholes on his shirt and jacket, and also real pockets.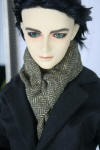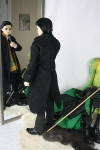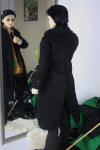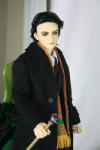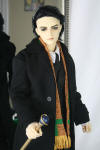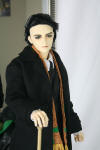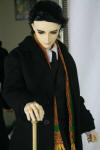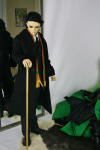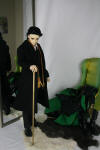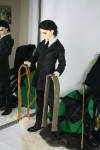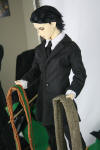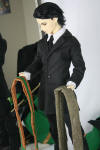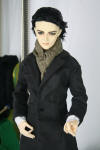 About two years after the creation of the original Loki suit, it was entirely degrading. The fabric I used was flaking in many places and I was unable to repair it.

Loki is wearing the Avengers 'casual' costume, when he's not busy being a helmeted badass. This took me about 3 weeks to finish from the modification of the Volks SD17 Alain doll base, to painting the face to look like Tom, then making all the costume bits. I custom made the eyes and cut and styled the wig, and of course all the costume pieces, except for the boots. The costume is pretty accurate to the movie and is made of pants, undershirt, tunic and coat. The interlocking pieces on the sleeves and the front of the tunic were the most difficult, along with the 'cut' of the coat.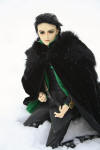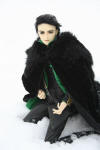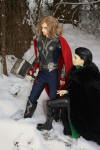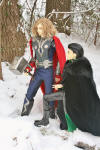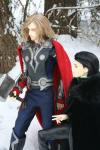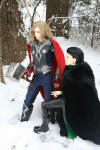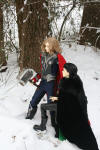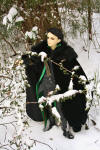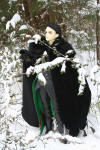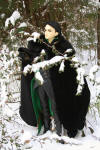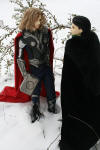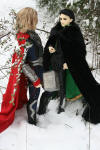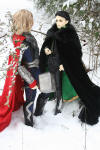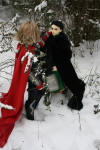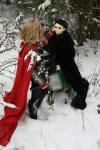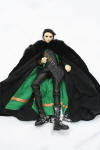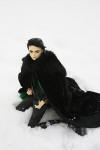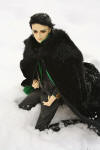 Photoshoot shortly after The Dark World came out. The outfit started to degrade pretty fast at this point. I tried to keep it functional by gluing places that were flaking.