DragonCon 2017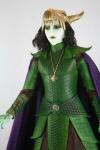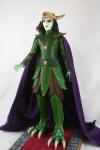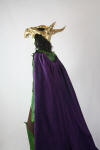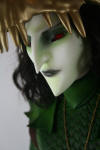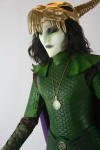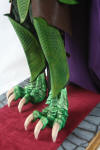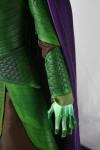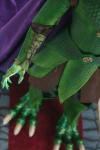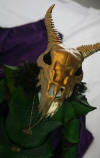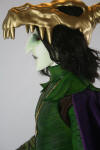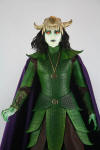 The Dragon Khan - Available $800

Custom Necropiper head in white, on a fantasy dragon claw body with fully custom hand-tooled and hand-dyed leather over tailored tunic and pants. All the painting, pattern drafting and leather-working were done by me. His crown attaches to his head with magnets in the horns. His eyes have a special LED effect that can be easily switched on and off on the inside of the faceplate. The base was also custom made to represent a red carpet on a worn, stone floor. His cape is near a full yard of fabric, cut with scalloped edges to represent dragon wings. the cape was hand hemmed. The armor and clothing is all fully removable.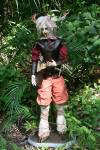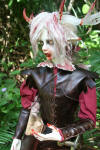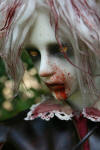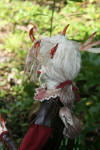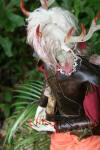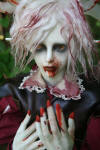 The Wendigo- SOLD

The Wendigo represents the cannibalistic deer-monster from Native American lore, but this particular Wendigo is one of the bloodthirsty conquistadors who has been overcome with the curse. He features deer parts on his hooves, ears, and horns, all bloody from his feasting, and his clothing was all made in the style of the Spanish of the time, then distressed with 'blood' and 'dirt' (both paints), and torn to appear old and weathered. He carries a fine assortment of accessories, including a bedroll, a map case full of miniaturized Spanish maps, and a sword. His base represents the typical brush of Florida.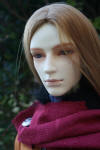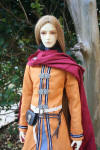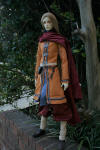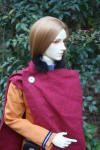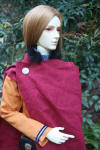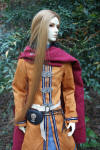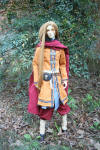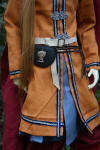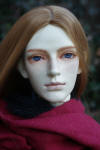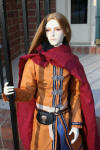 The Norseman- SOLD

The Norseman stands at an impressive 80cm, and his tall, lanky body has been clothed in some Viking-type attire. He has a full undertunic, billowy pants, boots, boot wraps, belts, a functional pouch, over tunic with a fur collar, and a rough-edged cloak. He has gorgeous clasps running down the front of his outer tunic.












Vampire Sheriff - SOLD

This sheriff has a secret. He comes with multiple hands as well, so that he can hold the guns. Totally custom clothing work, as well as a one of a kind holster with functional guns. They shoot little tiny pellets, kinda pathetically. :) I lost some of the pellets.






Pirate Cat- SOLD

Its a cat doll...and he has a little eye patch and cute, simple pirate clothes. He won't last very long so come get him right away if you want him!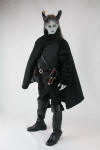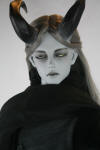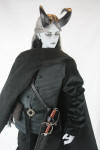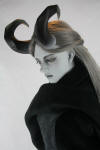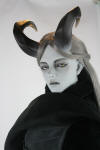 Demon Mercenary- SOLD

This is a beefy, awesome, be-horned thief who is ready to steal away your heart. He has a puffy shirt, jerken with lacing, belts, daggers, a pouch, awesome boots. His horns are magnets so they can come off if he's feeling less horny.
Tiger Man- SOLD
I'm not sorry about this at all. Tiger Man is wearing not much. He does have a very volumous cape, but its fur-lined and not covering much of him. His loin cloth isn't covering much either. Both the custom necklace and the cloak have a magnet closure so that its very easy to take things off. His chest straps have some snaps in the back to help them on and off. He also does have human lower legs and feet that are included. The major work on this was all the intricate painting of the musculature.
DragonCon 2016
The Hollow Wizard - SOLD


Refined cast of the original Necropiper, the Hollow Wizard is in grey and on a Mirodoll body. They are perfectly matched, since I had Mirodoll do the final casting of the head. The concept for the Hollow Wizard is that of a strange mage, lonely by choice, who has selected an old ruin to live in. This ruin is an ancient site of importance, and though it is crumbling, he can, alone, still seek out knowledge here. I wanted the viewer to see the Hollow Wizard as if they have interrupted this quiet study and he has noticed and given them a calm, confident warning look. His base was entirely designed and assembled by me, as well as his unique, faded tome.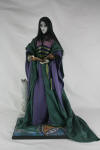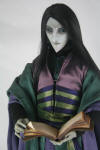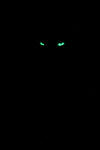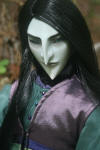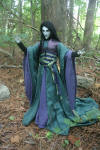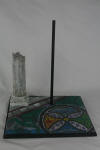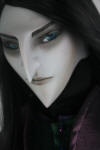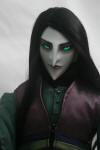 Woman in Red - SOLD


The woman in red is made from an Impldoll Lydia, with some modifications for posing and asthetic. She is in grey skin. In fact, everything about her is grey. Meticulous research went into creating a truly black and white doll that accurately reflects natural colors. So, she is wearing a red gown with gold brocade, with gold beads, and red beads. She has blond hair and blue eyes, with plush pink lips. Except that no where on her are any colors at all.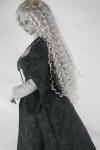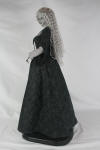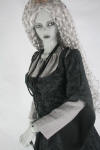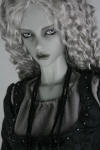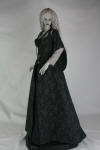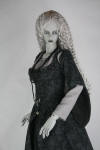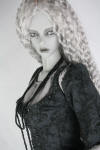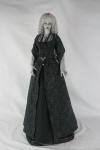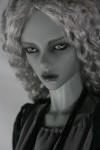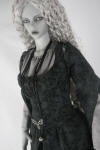 Blip - SOLD


This adorable girl is one of Batchix's Blip dolls. I fully painted her and added a super soft mohair wig in blue.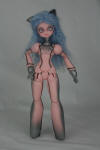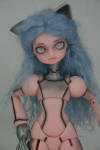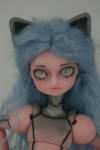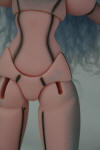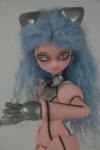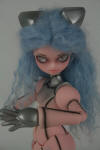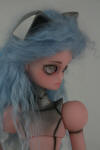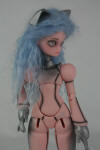 General Hav - SOLD


General Hav is another one of my sculpts, this time in a peach skintone. He has a freckled face and refined goatee, and full leather armor that is detailed with fox motifs. Bold and brash, General Hav is one of the army that ends up doing what others cannot stomach. He is a war hero, but unwelcome at court.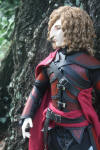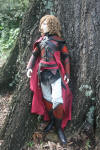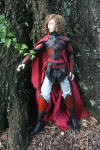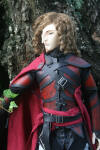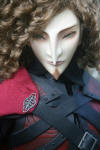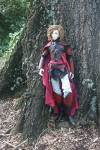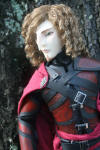 Searching for Traps pics soon
Dragon Con 2015


On this page you can see the entries into the Dragon Con Art Show. Past entries are archived towards the bottom.
"Party Killer"
This is a Batchix Dark Elf with all custom work by me. He is an homage to the cruel dark elves of D&D and absolutely ready to slaughter entire parties that dare to face him. All his armor is leather and hand-tooled.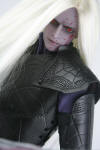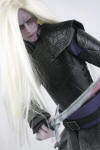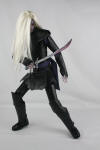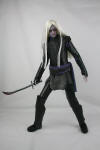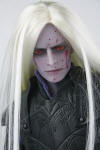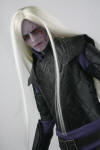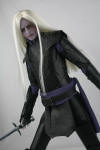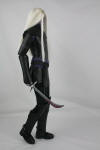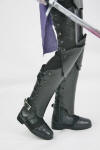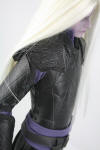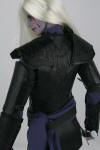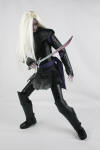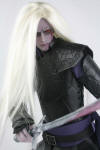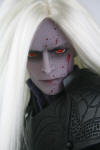 The Necropiper


This is an original sculpt by me that will be available for the first time at Dragon Con. I sculpted his right arm to be skeletal, and fashioned a soul prison in his chest that is lit with creepy, amber LEDs that match his eyes.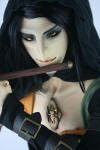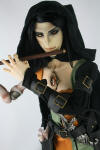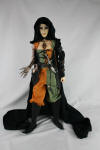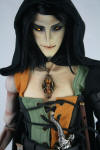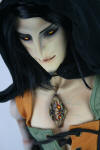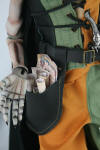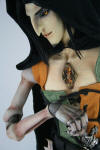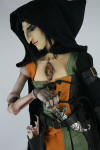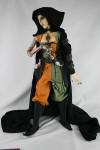 Gladitor vs Roman Soldier


These two are competing for your attention!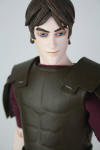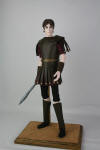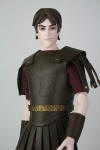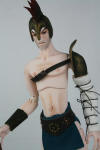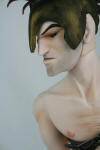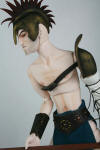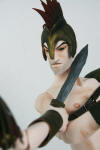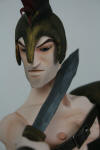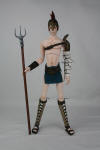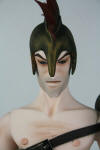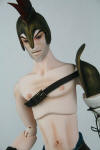 Cat - SOLD


This was a spur of the moment decision, but she happened.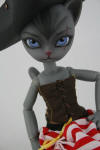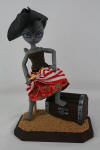 Gladiatrix Venatores - SOLD


Female gladiator made from a Luts Tan Lishe. Her eyes have been modified, and custom armor was leather tooled for her.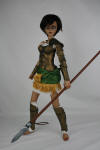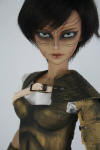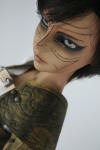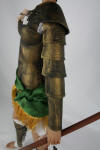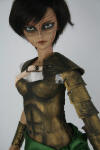 Dragon Con 2014
The Aviator
He is a Doll Leaves Wish, stands about 45cm. His outfit is entirely custom work and includes boots, belt, satchel, shirt, helmet, goggles and jetpack. The jetpack, satchel, helmet and goggles are all made with real leather. The jetpack is painted craft foam. He has been painted on his face and hands in a unique, lifelike freckled skintone, and has eyelashes and beautiful blue eyes. The only purchased item on him was his shoes. There is no other doll like him in all the world.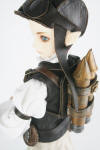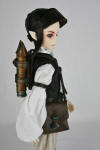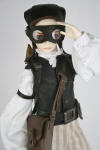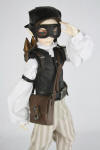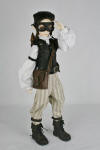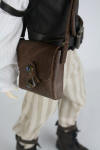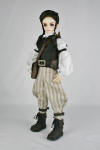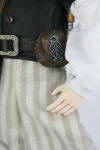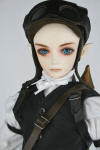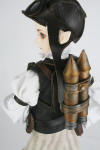 The Hunter


The Hunter is a 72cm Light Brown Luo by Iplehouse. More details to come!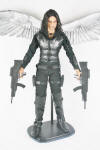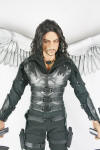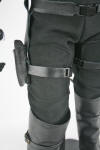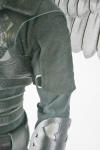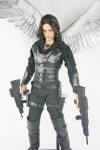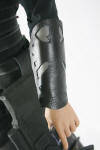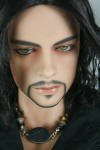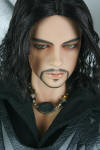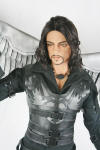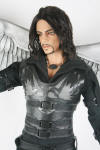 Captain Figere


Captain's base model is an Iplehouse Realskin Akando. More details to come!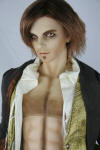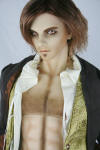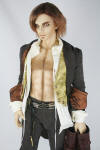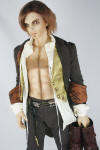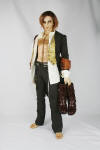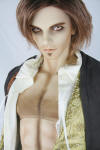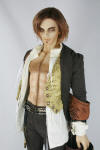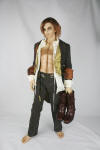 Johanna


Johanna is a Limhwa 'For You'. More to come!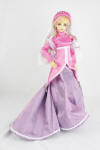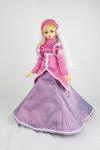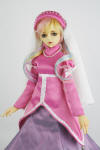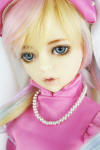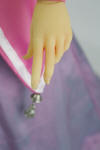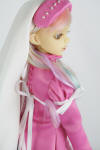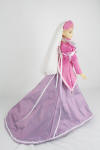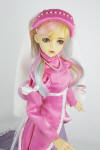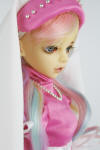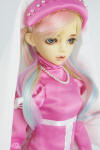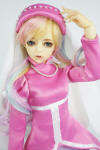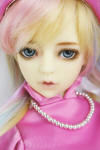 "You, Later Today" - A convention attendee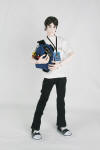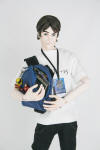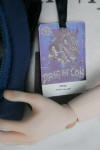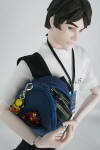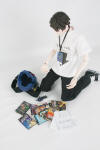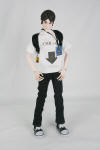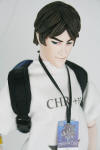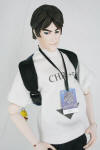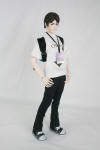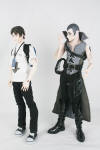 "Evil F***ing Wizard"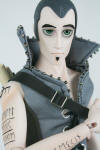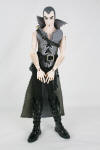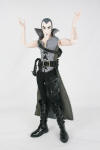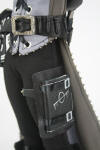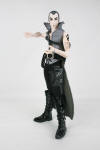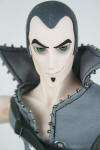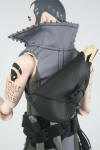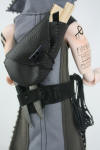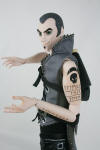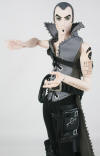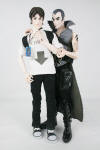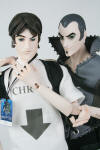 2013
Wizard in Brown
The first doll that I finished is an HZ Ao Zi Tian. He has some damage to one thigh that was repaired. His outfit is meant to evoke that of a classy but efficient wizard. The coat is fully lined, and also top-stitched. The sleeves of the main coat were entirely done by hand for the layered effect, not a fabric you can buy. The vest is removable from the coat. Under those he has a tan sleeveless tunic, perfectly tailored snug pants, and some nice quality boots. He has a few accessories...his pouch andalso his spell tome, which does not open. Also included are a belt, necklace, staff and stand.
The Warrior
This next girl is an Iplehouse Tania. She has some color damage to her resin, which has been fixed by modification to the right arm. Her face was also affected, but has been painted. She is a warrior girl, but not wearing some skimpy outfit, but an ornately crafted leather tunic. This is worn over a one-sleeved shirt, and fitted pants of contrasting textured fabric. She has a halberd and a cape that is removable from the armor. She will also come with boots, belt and stand.

Epsilon
Up next is an entirely customized Batchix Machina Epsilon. He has an original gray-toned face and the rest of his body has been dyed black, and painted with a metallic blue fade and silver accents. He has a rare helmet style handcast from the artist, modified and painted to match the rest of his scheme. He will come with his stand as well.
Delta
This little girl is a Batchix Machina Delta, custom painted with a gold fade, modified head to fit the helmet normally used by the boys. She was also restrung for maximum posability. She will come with her stand as well. She is the smallest and least expensive of the offerings I will have at Dragoncon.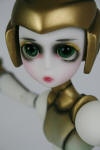 Ranger
This Ranger is an Iplehouse Jessica. Her dress is highly detailed with eyelets and top-stitching on the corset, which is precisely tailored for her exact bustline. The upper gown is made from a gorgeously soft faux-suede, and the lower sleeves and skirt are made from a textured white. Her gauntlets are made from leather. She has bow that I cut out, sanded and painted, as well as a quiver and compliment of arrows, each one made by hand. She is the most expensive of my dolls at Dragoncon, but she is truly worth it!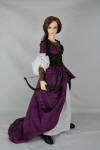 Thief
The Thief is an Iplehouse Vito. His outfit is inspired by the classic Dungeons and Dragons Thief, with his throwing daggers and length of rope accessories. His belt is made of leather. His vest is fully lined and his pants are carefully tailored to exactly this doll's legs. The bindings on his calves to cover his lace-up boots, are wraps. He is wired to be able to hold poses easily.
Gamma
This striking hero is Batchix Machina Gamma, who has been given a dye to certain portions of his body, only, to reduce the visibility of scratches when/if he gets them in his red hot fade from red to white. His body was also given a 'weathered' paintjob, to make him appear to have been in service for a long time. I highlighted the 'collar' about his neck with gold, to suggest that he is in service to someone.
Paladin
Last but not least is The Paladin, Palisade. He uses the highly limited Luts Abadon Armored body, with a Luts Winter 2010 Event head. His outfit was very difficult for some reason, and includes lots of fiddly folds. His white coat is fully lined. The painting on his armored pieces is totally custom work. His black shorts are thin enough to fit under the thigh armor. His cloak is separate from the coat, and the hood can be worn comfortably up or down.